Brazilian Curly Hair 5x5 Lace Closure Wigs Swiss Lace Wigs For Women
Brand Name:

Mellow Hair Wigs
Hair Color:

Natural Black
Hair Length:

8-30 In Stock Available, Can Be Dyed Or Permd
Feature:

Soft, No Tangle And No Shedding; 100% Human Hair; Pre-plucked Hairline, Baby Hair Around
Hair Life:

More Than 1 Year With Proper Care
Delivery Time:

Fast Shipping By 3-5 Working Days To Arrived. Plus Service: 15 Days No Reason To Return Or Exchange (Please Contact Customer Service Firstly)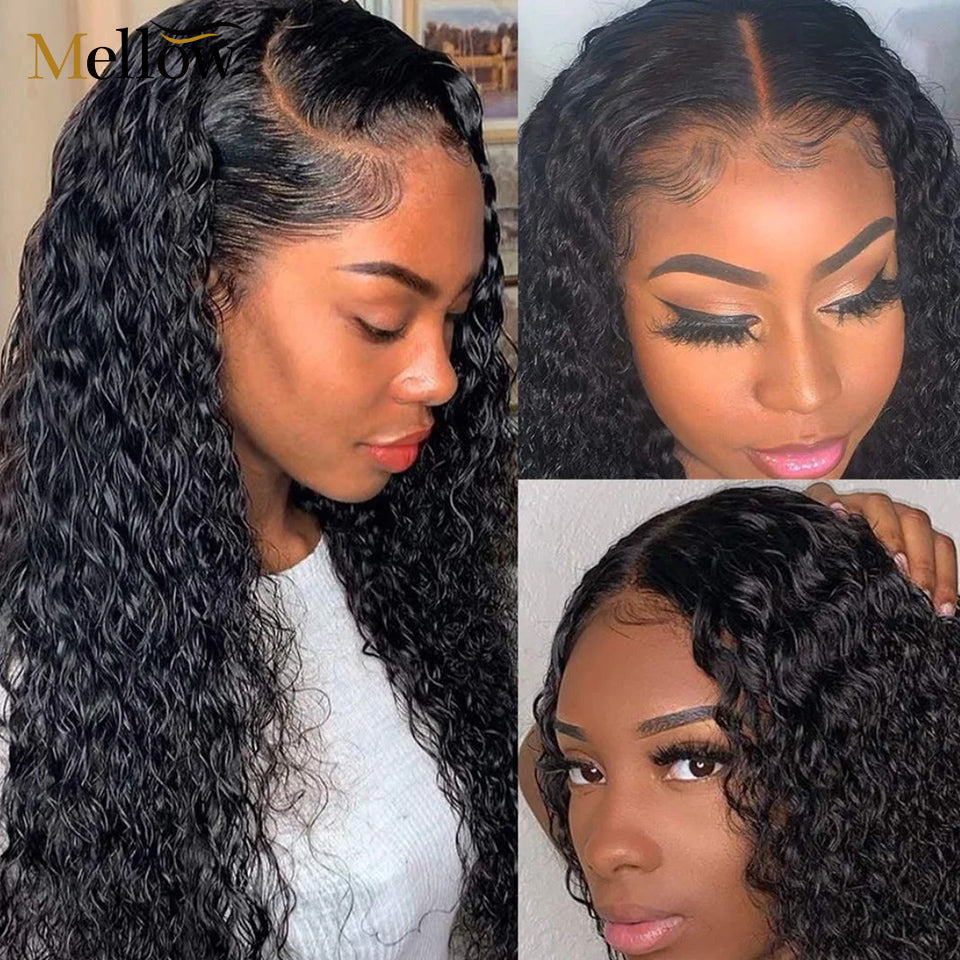 Jerry Curly Hair 5x5 Lace Closure Human Hair Wigs, 150% Density Make It Full And Attractive.
Natural Looking Wigs With Baby Hair Around And Natural Pre-plucked Hairline.
5x5 Inches Lace In The Front, Durable Swiss Lace. Combs Side And Back Part.
SHIPPING
Order will be shipped asap with in 24 hours,3-5 working days to arrive most normal countries,click shipment for details. We offer fast shipping to most normal countries via DHL/Fedex.
RETURN
If you are not completely satisfied with your purchase for any reason, you may exchange or return an eligible item in 15 days. Please provided you follow the proper return procedure and eligibility guidelines.
SERVICE
Any questions can be answered within 24 hours, you can send messages to

service@mellowhairwigs.com
Terrible fucking product
I purchased the wig at the beginning of August 2020. I've worn the wig a few times, never glued down, didn't even have to really bleach the knots. I paid close to $200 for the 26" 5x5 closure wig, Everything was going well until this morning. After about a month of not wearing the wig, I wanted to give it a wash and refresh. During the washing process the entire closure matted at its roots, making it impossible for me to untangle it, I used half a jar of Aunt Jackie's conditioner in an attempt to get the hair un tangled but the hair literally began to slip out of the lace from its knot. DO NOT BUY THIS HAIR! IT DOES NOT LAST
Bad hair
I want a refund the hair was horribly thin
Got the 16 closure
Ok so I was so excited to get this on yes the curls a popping ordered 16 top of wig was 12 an bottom was 16 🤨
I must've got a defective wig! The wig is so thin it looks like I have 75% density . I look like the damn creature from lord of the rings when I wet it ! It's soft but that's about it absolutely no density would not recommend unless getting 250%
Terrible fucking product
I purchased the wig at the beginning of August 2020. I've worn the wig a few times, never glued down, didn't even have to really bleach the knots. I paid close to $200 for the 26" 5x5 closure wig, Everything was going well until this morning. After about a month of not wearing the wig, I wanted to give it a wash and refresh. During the washing process the entire closure matted at its roots, making it impossible for me to untangle it, I used half a jar of Aunt Jackie's conditioner in an attempt to get the hair un tangled but the hair literally began to slip out of the lace from its knot. DO NOT BUY THIS HAIR! IT DOES NOT LAST
Bad hair
I want a refund the hair was horribly thin
Got the 16 closure
Ok so I was so excited to get this on yes the curls a popping ordered 16 top of wig was 12 an bottom was 16 🤨
I must've got a defective wig! The wig is so thin it looks like I have 75% density . I look like the damn creature from lord of the rings when I wet it ! It's soft but that's about it absolutely no density would not recommend unless getting 250%
Terrible fucking product
I purchased the wig at the beginning of August 2020. I've worn the wig a few times, never glued down, didn't even have to really bleach the knots. I paid close to $200 for the 26" 5x5 closure wig, Everything was going well until this morning. After about a month of not wearing the wig, I wanted to give it a wash and refresh. During the washing process the entire closure matted at its roots, making it impossible for me to untangle it, I used half a jar of Aunt Jackie's conditioner in an attempt to get the hair un tangled but the hair literally began to slip out of the lace from its knot. DO NOT BUY THIS HAIR! IT DOES NOT LAST
Bad hair
I want a refund the hair was horribly thin
Got the 16 closure
Ok so I was so excited to get this on yes the curls a popping ordered 16 top of wig was 12 an bottom was 16 🤨
I must've got a defective wig! The wig is so thin it looks like I have 75% density . I look like the damn creature from lord of the rings when I wet it ! It's soft but that's about it absolutely no density would not recommend unless getting 250%